Dont Hijack This - Remove any virus infection in 30 seconds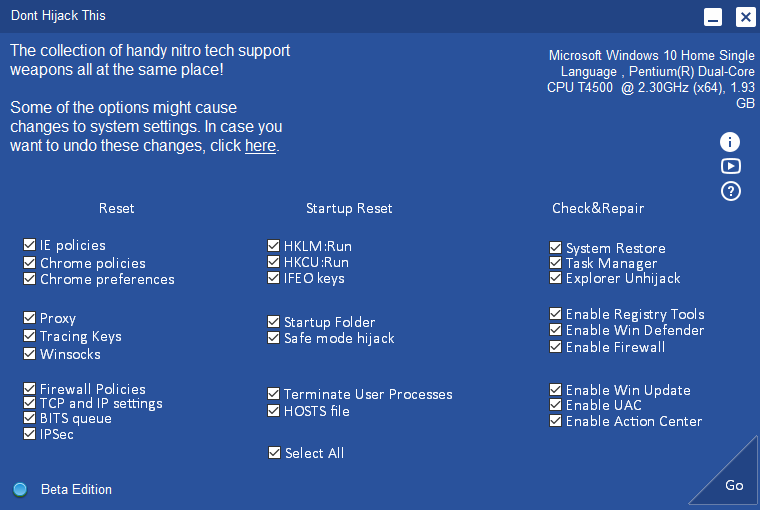 Did you just infect your computer? Were you browsing adult repositories or trying to find serial/keygen/crack for your favorite program? Or did you just click the wrong download button and download a malware instead?
There are hundreds of ways you can get an adware/malware infection today even after installing an antivirus, updating your operating system regularly, scanning your pen drives/removable media with virus scanner before use. Antiviruses are meant to but can not block each and every piece of malware automatically. Every time, a new malware is created by a hacker, it remains undetected and infects thousands and sometimes millions of computers before your favorite antivirus knowing!
All this can happen for a month or even within a night. Your antivirus will only be able to block a new virus after becoming old. So you are always at risk of being infected by the new generation of smart-ass malware.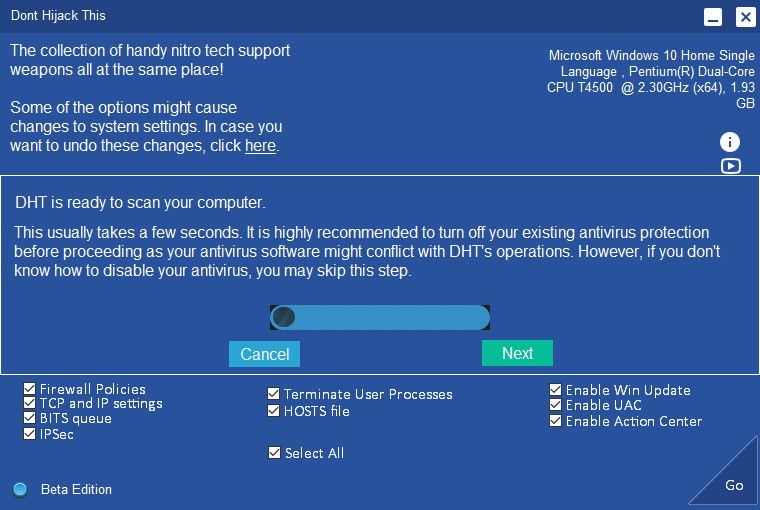 DHT is free forever. We need your smile not your money!
DONT HIJACK THIS - THE ULTIMATE VIRUS BUSTER OF GENERATION
Steps:-
2) Check all items and click Continue.
3) Done! Enjoy a fixed computer.
4) Dont forget to save DHT to a safe location on your computer/ usb drive so that you can fix your /your friends computer later.

Important: Newer version of DHT is coming as Anti Hacker. Also, DHT authors are releasing free version competitor of top class PC Optimization software which will be 100% free.
It will be having the following features:
Junk and Clutter scan, Performance Issues scan, Internet booster, Anti-Malware, Vulnerbility scan, Privacy scan, System Errors scan, Registry scan, Startup Optimization, Disk Fragmentation scan, Game Mode, 1-click boost and hundreds of cool features for
FREE
! To make sure you get this cool software for free fill the below form.